Slept in till seven o'clock: Started up the coffee and was soon joined by Keith. We had cereal for breakfast. Greg had to run to a Dr's appointment. Keith and I took off for a morning walk. I decided to be comfortable and donned my Utilikilt. Keith toured me around the neighborhood which is very upscale. We went to the waterfront park and pool.
There is a convenient shopping area that has a Trader Joe's! I have enough chocolate, but got another six pack of wheat beer for the road trip.
Greg was home by the time we returned. I got my gear together and was on the road to Kalamazoo by 11:30 a.m. My GPS was programmed with the destination some 140 miles distant. I just followed the directions which were kind of tricky as I maneuvered my way out of the city. I can't get over how much easier it is to travel now using that thing.
I like to toget my gas at Pilot as they normally have the cheapest prices and on the receipt from the pump there is usually a coupon for a 16ounce coffee for $1.00.
I was leaving the store with my $1.00 coffee when a hitch-hiker asked me about the Utilikilt. We got in conversation. He and his dog were headed west to Sturgis, South Dakota for bike week. He was a street magician turning tricks to survive.
He pulled some card tricks and slight of hand things for me. I gave him a couple bucks and wished him well. I was kind of sorry I could not help him out, but I was not going that far and the truck was filled in the cab…..
The weather was very unsettled and nasty thunderstorms were on my route. These storms were the "deluge" variety with zero visibility, where you slow down to 30 mph with the four way flashers going. I dread driving like this. There were about three incidents of driving in these conditions before the weather cleared.
My exit off I-94 was 80. I traveled here last October for a fast trip to pick up a fire hydrant I won off E-Bay. Sure enough, exit 80 was the Exit where I met Bob and we transferred the beast between our trucks in the Perkin's parking lot. This is the same Perkins we are having supper at tonight!
The open house was at Jerry and Donna's house, not far from the hotel. The grounds and gardens surrounding their home were lush: Lots of vegetables and hostas. There was lots of shade to sit back and visit. I got lots of looks when I first approached wearing my Utilikit. Things loosened up and returned to normal once the initial shock wore off!.
Alan and his dad had a special brick for me. It was a super rare large square "Star" brick. I'm thrilled. This will go in a special place in the collection.
I just had time to get checked into the hotel and then had to meet up with everyone at the Perkin's just down the road. Our group had the entire side room filled. The poor servers, trying to get everything right!
I was not really hungry. Perkin's only cooks their burgers medium well. So much for that: Got the fried cod fish and fries from the "over 55" menu. There ended up being two pieces of fish which was plenty for me.
Back at the hotel horrible storms started up again; Bright flashes of lightening followed by deafening booms of thunder. If it accomplished anything, it cleared out the noisy swimming pool area the window of my room opened to!
Saturday morning dawned gray and damp. Hopefully the rain will hold off till after the swap. There was not much of a "continental breakfast" in the lobby. I just got some chemical orange juice and coffee to hold me over.
The directions to the swap were kind of vague. I was not worried as I just had to program the address into my trusty GPS. It seemed top be a round about way to the swap, but I arrived in plenty of time to get a decent spot. It is always good to get a center location to make it easier to dump off your bricks!
This is "paver country" lots of good bricks were up for grabs. The way the swap works is that no money changes hands. The bricks on the ground are there for the taking. You just have to carry them on your own. No wagons, baskets, etc. I can squeeze about five pavers under my left arm and then carry another one or two with my right hand. It is most important to map out the initial run for the choicest bricks. My "toe brick" was a salt glazed paver. Right next to it was another glazed paver in a very ornate design. The next hoard of bricks over had a desirable "Duck Creek" brick with the two flying ducks. Five minutes before the start, it began to rain. DAMN!
Bricks all set up for the swap: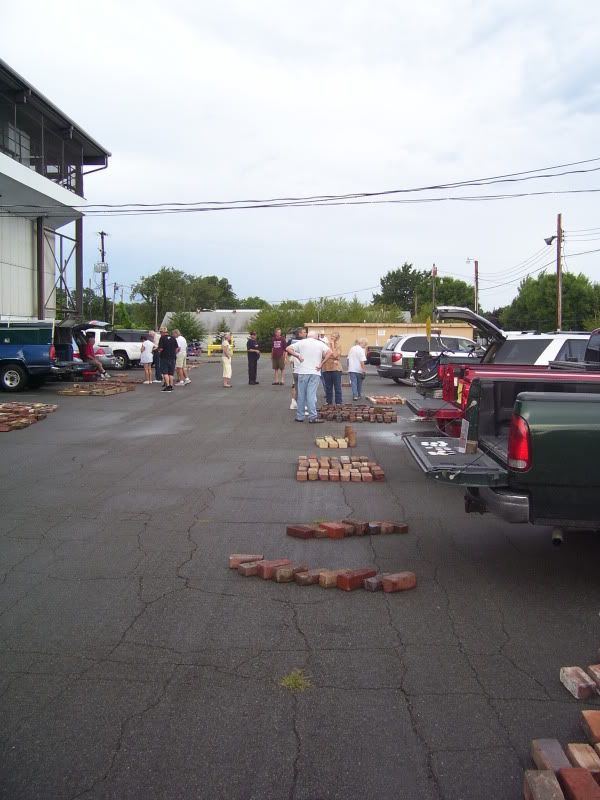 My "Toe Brick".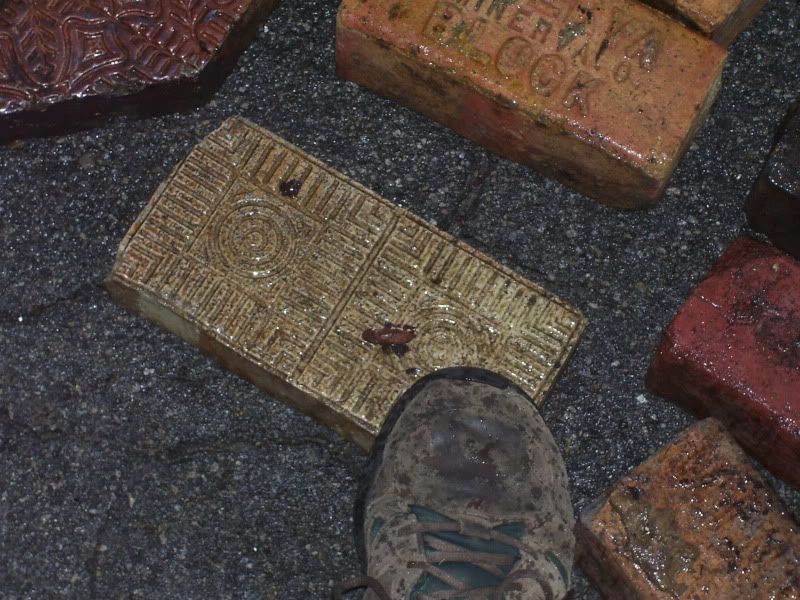 At 9:00 .a.m. the car horn sounded and I was off. I scarfed up the two salt glazed pavers and tore off for the duck creek brick. From there I dashed over across the aisle for the "Worlds Fair" bricks. I scored three of them!
Once things slowed down a bit I helped out the people who were begging collectors to take their bricks so they did not have to haul them home!
My truck was groaning at the end..
Once all the bricks were traded off we moved into the open shed building for the auction. Members donate things to be auctioned off with 100% of the proceeds off setting the club expenses.
Coffee and donuts were set up here. My tee shirt and Utilikilt were wet and muddy from the frantic ferrying around of the bricks. There were good donations to the auction. There are a number of things I want to bid on.
My first auction acquisition was another "Worlds Fair" brick. A bit of history copied from an article titled "The Paving Brick Industry in Ohio", written in 1999: "The block was made jointly by the Malvern Clay Company and the Canton & Malvern Fire Clay Paving Brick Company. After receiving the medal, these two firms began placing a likeness of the medal, including a depiction of Christopher Columbus, on their bricks."
Detail of the "Worlds Fair" paver brick: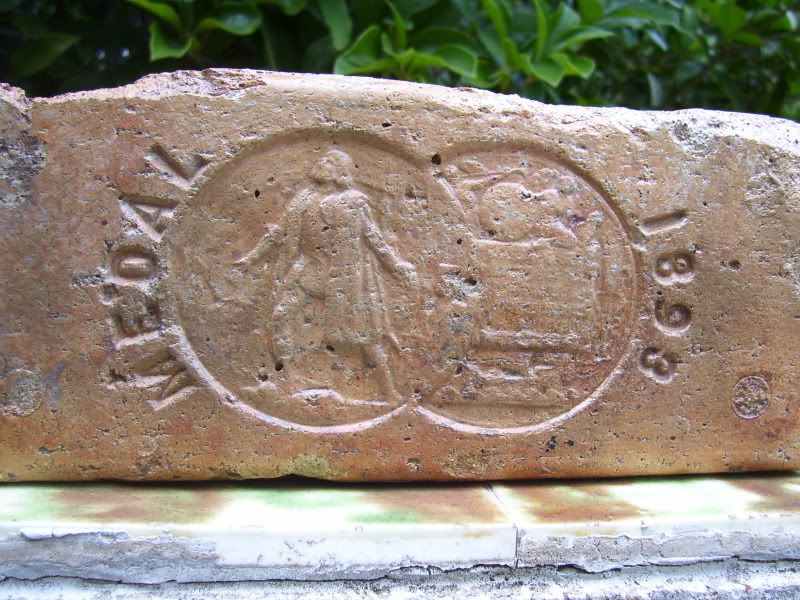 This auction brick must have been pressed when the mold was still pretty new. The details are very crisp and clear.
My friend Nancy donated a great hunk of marble that saw service in the Paris, IL Post Office. I was lucky to win it.
There were a couple things I did not get as the prices got way out of my comfort zone. I have a tendency to bid higher than I normally would knowing that all the proceeds benefit the club.
There were box lunches that were pre-ordered. I enjoyed a good sandwich, macaroni salad, fruit and water before heading out for home.
Nancy's marble with the rare Star Brick from Alan and his dad Gene installed in my collection.