This time of year always has me thinking back to 1996. August 23, 1996 was the day I closed on my Alabama home. The changes that have happened here since that closing date!
I'm finally getting to work on trying to get the back hedges under control. It was in 2000 the trees along the east boundary of my property were taken out by the city to install a new storm sewer. I was sick to lose the privacy, but looking on the bright side I had an opportunity to start some landscaping with a clean slate.
I planted hollies along the fence line and installed a lattice work with a birdbath to be sort of a focal point. This shot shows how everything looked ten years ago.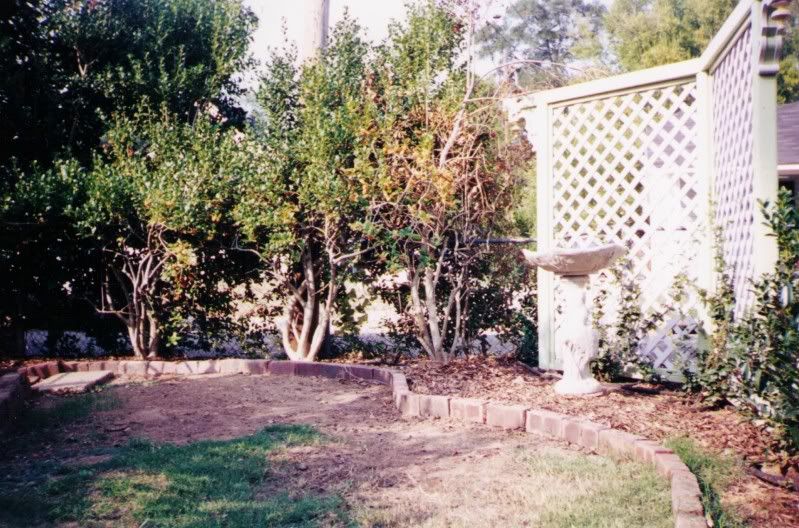 The hollies have grown out so I was not able to duplicate the shot from the same angle. Those bushes are growing high and thick making a nice privacy screen. I'm thinking it might be time to take down the lattice and plant a couple hollies in the spot. The wisteria that was supposed to drape and bloom within reason over the lattice screen has taken over the corner of my yard!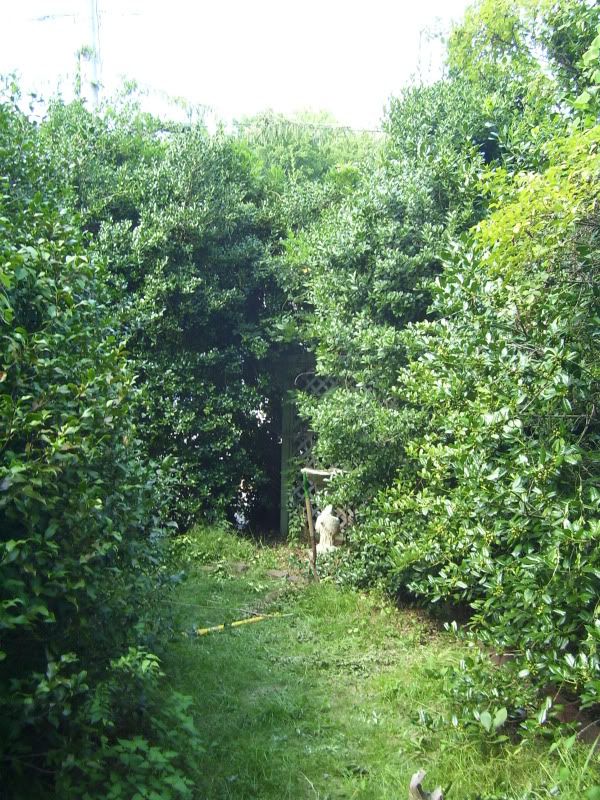 The heat wave has broken and the temperatures are finally cooling off at night. Last night I enjoyed viewing the full moon with Daggy and Stump on the back patio. The bug pots were lit and I enjoyed a glass of yard wine. Stumpy was in rare form jumping and running like he was a kitten again chasing real and imagined bugs. Daggy was content to be on my lap. It was a feeling of bliss and contentment…...
I've gotten word from the E-bay seller of the fire hydrant that it is scheduled to be picked up Friday morning by Craters and Freighters. That is good news! I think he was taken aback by the interest in this fire hydrant. He diplomatically asked me what I planned on doing with it. I explained in an E-mail to him how I have always wanted a San Francisco Fire Hydrant and I sent a couple pictures of my hydrant "collection".
His reply gave me a history of this hydrant. I'm just going to do a copy and paste of his E-mail to me:
"When you get this SF hydrant set up, I'd enjoy seeing a picture of it. The story of the hydrant that I know is that it came from a neighbor of mine in Metropolis (made up name!) who is a SF Fireman. He was being foreclosed on and had to be out of his house. The opportunity to get it almost eluded me. I went by his house and bought some other things from him and inquired about the hydrant but did not buy it. My wife, who had been talking to his wife, later told me that their last day was the next day, Sunday. Unfortunately, I had to fly to Texas the next day. I gave my wife a blank check and to go over and see if she could buy it for no more than X $s. My neighbor was motivated to get rid of the hydrant and my wife bought it on condition that he deliver it, which he did. It would make you mad how much I paid for it, so I won't tell you. I thought about keeping it, too. But I have a collection of old McCormick Deering crawler tractors and other farm equipment that will keep me busy the rest of my life. Therefore, better to go to a person that will appreciate it and display it in a tasteful way."

This is the kind of transaction I relish on E-bay…easy to work with people and good honest communication. I do not begrudge any seller for making a profit on a sale. I wanted that damn hydrant so bad my auction bidding proxy was nearly twice what the final selling price was! If anything, I feel bad for the original owner of the hydrant. I hope things will turn out for his family…..