| | | |
| --- | --- | --- |
| | | Friday, September 10, 2010 |
Thursday morning I worked with Trish getting the John Henry ready for it's new home. We were almost done when Jason showed up! He was in town for the big Alabama - PennState game. It was so good to see him again. He is doing so well in his career. It makes me happy to see things working out so well for him.
Once home I contacted the freight company on the fire hydrant. It arrived but they could not find it. The man I spoke to told me he did not want me to head out to Birmingham till he knew exactly where it was. He called me back around two in the afternoon. They had it, come on up!!
I did a Google map search so I knew where I was going. Setting up the Garman I headed out. The freight company is located way out by the airport in a run down industrial area. Long loading docks with trucks backed up were behind locked chain link fences. I was at the wrong gate and had to backtrack a bit. Got onto the site and found my way into the office. It was madness: Invoices stacked all over, huge files, phones ringing, "That shipment is in Nashville, it will be here tomorrow morning. Do you want us to 'redball' that to you?" patiently said the capable worker.
I met with Mike whom I spoke with earlier. He told me to drive to end of the dock and to park to the right or left of the ramp: "If the brakes go on the tow motor I don't want to hit your truck."
While waiting I programmed the Garman for Harbor Freight to stop on the way home. Sure enough, I heard the tow motor approaching with a small pallet holding the upright fire hydrant! What a good job of packing. Craters and Freighters gets the highest marks from me! I strapped it to the bed of the truck and headed out: The final lap in this journey for the hydrant.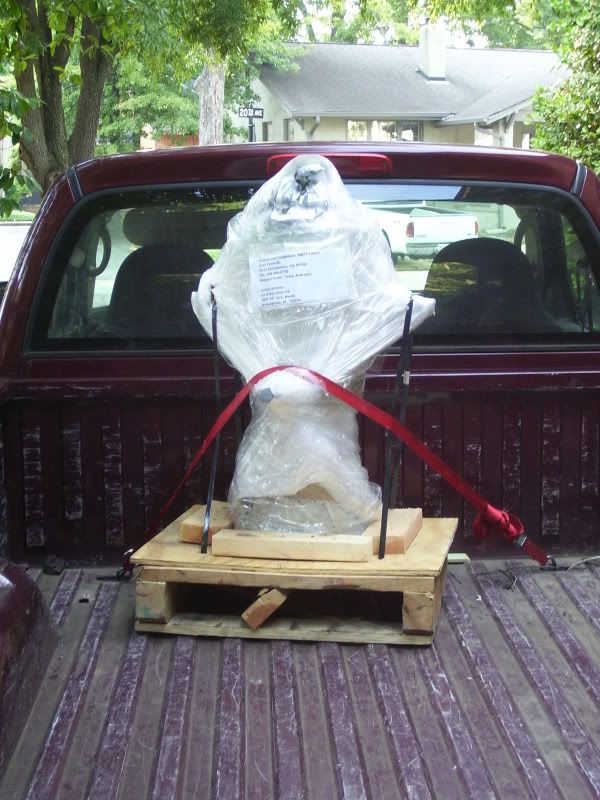 It was nearly 4:00 and rush hour traffic was just getting started. If I detour to Harbor Freight, I'll be in even worse traffic. UGH! I decided to just head for home.
The GPS went nuts when I missed the turn to I-65. I unplugged the damn thing! Traffic was so bad I did not want ANY distraction.
Friday I'm going to a party and am supposed to bring a mess of cole slaw. I needed to get some food shopping in. My mainstay market Publix by the University was out of the question. The easiest thing to do was to exit at 73 and go the Food World there. I've not been there in ages. It was kind of dirty and run down. Glad I was just was getting Mayo, Cabbage, celery seed, yogurt ice cream, and sourdough bread. The sourdough bread was to celebrate the San Francisco hydrant to its new home!
Using my trusted old 2x6's salvaged 30+ years ago from an old Lockport house I made a ramp to slide the hydrant off the truck. A moving dolly carted it to its resting spot for now. Now I can check it out in detail. There has to be 100+ years of paint on this. I can make out a bit of cast information but it is all so painted over deciphering it is impossible.
With the hydrant safely off the truck and on the back patio I fixed up a steak smothered in onions and butter. After a hot shower I splurged on some Vanilla Yogurt drenched in home-made blueberry sauce from Peter and Heather. I ate that on the porch swing with Stumpy on my lap. He had some tastes of the yogurt. The cicadas were in full chorus, the street was fairly quiet and the ceiling fan had the air stirred up enough so the mosquitoes stayed away. It was the perfect way to cap off the day.
I just checked out the paint thickness of paint chip with my micrometer. It "miked out" to nearly 2 millimeters thick.
Using paint remover and the blowtorch I was able to remove enough paint so I could make out the information: RISDON IRON WORKS SF CAL. I was hoping to find a date in that insignia but no luck. The paint obscures so much detail, there might be a casting date hidden there someplace.
The main source for fire hydrant information is at: http://firehydrant.org/. There is no information on the Risdon Iron Works manufacturing hydrants. Could this be a rare hydrant cast by Risdon, or a hydrant personalized for the Risdon site?
This will have to be researched more. Now, I need to contact some members from the Brick Collectors Club in California for some California pavers. I want the base for this hydrant be constructed from period street bricks that could have been in San Francisco. Who knows this hydrant could have been in use during the 1906 disaster!
From what I have read, there was not good clay for street pavers in the San Francisco area and most of the street brick were imported in: mainly from Los Angeles. I have one LA street paver. West coast bricks don't turn up in the east unless hauled out by a collector!