I have taken my journal entries documenting the installation of the brick driveway/sidewalk and have combined them to tell the story of this adventure in some sort of order. This entry begins at Stanton's Antique Music Auction in Michigan. This was a three day auction starting 2:00 p.m. on Thursday and ending on Saturday afternoon.
Billy drove from Gainesville, FL to my house in Tuscaloosa, AL. We drove up together. It was great fun annoying the other auction goers baiting them on the brick pick up!!
| | | |
| --- | --- | --- |
| U-Haul Adventures | | Wednesday, May 09, 2012 |
Saturday May 5th was the big day for me! The main reason I made this road trip with Billy was to acquire 832 Nelsonville star paver bricks located in Ohio. Each brick weighs in at about 10 pounds which makes this load of bricks total in at over four tons. The bricks were located in a little town north west of Dayton, Ohio. It was imperative I be able to get my U-haul truck as near to these bricks as possible. There was another problem in the pick up time for the truck. I was picking it up at around 5:00 p.m. on a Saturday. Many U-Haul locations are closed at that time.
The town of Troy, Ohio was the perfect pick up location. Once I made a truck reservation and had a number to deal with, I contacted U-Haul through their website to explain my situation. They do not guarantee you the size truck, or pick up location you request. I was flexible with my pick up location, but I could not vary from a 14ft truck. The maximum weight it could "legally" carry was around 6,000 pounds. The next larger size truck at 17ft was rated to carry even less weight. I did not want to spill the beans I was going to be carrying bricks, but I wanted them to know it was the weight limit as to why I needed the 14ft truck.
I have to give praise to U-Haul. Within a couple hours I had an E-mail reply from their website with a number to call for scheduling truck pick-ups. I spoke with the most competent scheduler. She put me at ease that I would be able to get the needed truck along the route I was travelling. When I learned Friday it would be at the Troy, Ohio location I was ecstatic.
We got on the road and headed to Troy, Ohio a little late to pick up the U-Haul and adventure. It was just before six when I was behind the wheel trying to get the feel of driving a box truck for the first time since 1996. I had my Garmin to direct me to Arcanum, Ohio where the bricks were located. Billy was following me. I was driving on narrow country roads. The road I drove out of Troy was called, Horseshoe Bend road. I saw a sign which read "no busses or trucks". I figured they meant semi trucks. There were hairpin turns where this road dropped to a creek. I had to back up on the worst bend to be able to negotiate the turn. I was a wreck by the time I arrived at the brick pick-up.
The 834 bricks were located on pallets against a far wall of a garage. Billy was able to back up the truck pretty close. We had to transport those damn things by hand. Justin, the guy selling them had two helpers, so there were five of us. We had one person in the truck while two people made up stacks of bricks four high and the others convoyed them to the truck. Ever so slowly the truck got filled. I was so glad to close the door and latch it shut.
Four plus tons of bricks stacked in the U-Haul: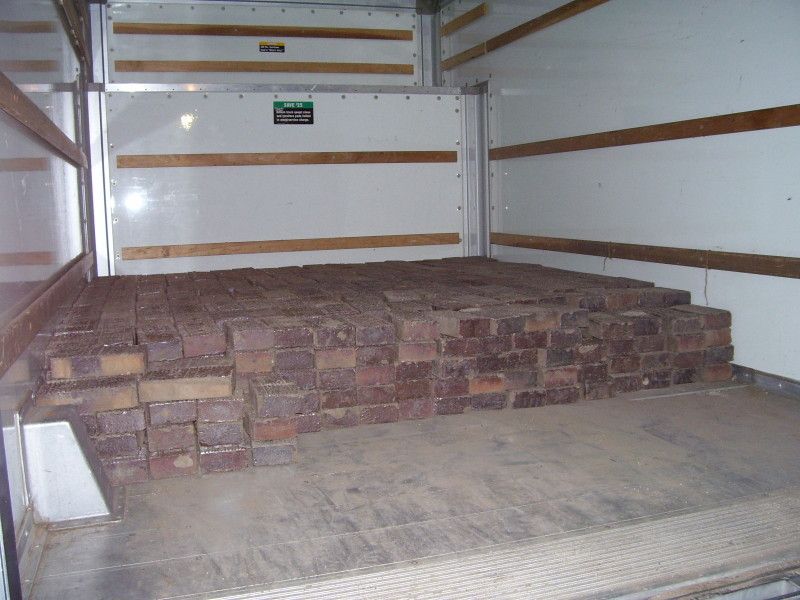 Our destination for the night was the Motel Six in Dayton. I deliberately chose this location as an Outback was just down the road. I tried to call to make the reservation, but the call would not go through. We decided to just take our chances and show up.
It was only about a 25 mile drive to the motel location which was one exit south on I-75 from the interchange of I-70. The Motel Six is now a Best Value Inn. I checked us in. Billy backed the U-haul into a parking spot up front and I put my lock on the latch.
We washed the worst of the dirt off us and headed to the Outback. It was Prime rib tonight after the day we had.
A hot shower did wonders before bed. We slept in and did not get on the road till after 7:00 a.m. Traffic was light through Cincinnati. It took a while to get comfortable driving the truck. It was a few hours into the trip before I got at ease enough to start passing and driving a bit more aggressively. I'm so glad to be driving this load on a Sunday instead of bumper to bumper weekday traffic.
I was telling Billy at the rest stop before Louisville, that it would be shorter to take the Watterson Expressway around the city. One of the state workers overheard this discourse and he recommended we take the longer Gene Snyder Expressway. He explained there was still clean up going on from the Kentucky Derby, and the Snyder was only about four or five miles longer and was easier driving.
This was good advice. We stopped for lunch in Bowling Green at the White Castle. We took a break leaving the truck in the White Castle lot and driving in the Honda to the Flea Market. This is the nasty place I used to frequent back when I lived and worked in Bowling Green. I was cornered and asked if I played the bagpipes because of my Utilikilt! The human interaction that garment brings me!
It is a five hour drive to Tuscaloosa from Bowling Green. Nashville was a nightmare to get through as I-24 was closed down for construction. Once we were able to exit onto 40 west things picked up again. Normally I would have detoured to Trader Joe's in Nashville. Not this time. I just wanted to get home.
It was about 6:30 p.m. when I parked the truck in the empty parking lot across the street from my house. I was numb and "rubber legged" as I stepped down and out of the cab. We had covered some 600 miles.
| | | |
| --- | --- | --- |
| Life With Bricks | | Thursday, May 10, 2012 |
Monday morning I started unloading the bricks. Using a length of 2"x6" with a backing of an old piece of wood siding on my moving cart, I was able to figure out how to move 18 bricks a trip. That does not sound like a lot, but it works out to wheeling 180 pounds down the ramp and then stacking the bricks at the end of the driveway. Billy took over in the truck stacking the bricks into the cart. We worked in tandem. The truck unloaded much faster than it loaded!
Got the truck all cleaned out and we dropped it off at the U-Haul. Before I dropped it off I had to make sure the tank was ½ full. It used to be you got the truck with a full tank and you returned it with a full tank. What a pain in the butt to figure out how to get a ½ tank. It took some three tries. I think Visa thought there was a problem as after the second swipe, I had to go inside to see the cashier.
Those bricks were driving me crazy… Wednesday I went to work to do a mock up how this new sidewalk will turn out. I decided to go with a "herringbone" pattern. This is how I've seen most sidewalks laid with this style brick.
Today I started the day working on the front gate. The gate and post are supported by cement, but the past few years the gate has been shifting. I fixed up a brace by using galvanized ½" pipe. I used up an old tee fitting to join the two pieces of pipe, and sized it so it just fit between the cement gate foundations. Then I took pipe wrenches and opened up the pipe enough to get the correct spacing. Then the trench I dug which is where the pipe ran was filled with cement.
I have to wait till that all sets up before I work on the crushed limestone base for the new bricks.
| | | |
| --- | --- | --- |
| Bricks are Installed | | Thursday, May 17, 2012 |
This boy is tore up. It seems I'm saying this line more and more. I have been in overdrive to get the new sidewalk installed. The worst of the job was done when I put the first bricks in back in 1999. I just had to enlarge the sides a bit and scrape down the crushed limestone base to compensate for these bricks being a bit thicker.
This is the first time I've ever laid brick in a "herringbone" pattern. I have read enough on laying a brick walk, but a video on the "You-tubes" showing how you start using a center line with the bricks pointed down, and then adding to the sides going up. Add another course pointed down, etc…. was invaluable. Using a strait line to line the first course up made a real professional looking job. I was seeing bricks in my sleep!!
I had so many neighbors stop by to comment as work progressed. One neighbor stopped by with her son who is now tall as me. She remarked how she remembered me installing the old bricks in 1999 when she would push her son in the stroller!! She just shook her head when I told her I was going to use those bricks to brick over my driveway. But, I had to wait till it got over 100° to break up the cement!
There was little waste in cutting up the bricks with the saw. The edge on left side needed a 45° cut. That corner bit of "waste" fit perfectly in the space left on the right side! Even so, I hated to cut up that beautiful brick. The distance worked out perfectly to where I did not have to trim and cut down the last course of bricks to fit.
It is always a good day when you are working with bricks!
Here is a shot of the bricks with the second coating of sand ready to be soaked in between the bricks.
I was flooded with memories as I worked with the old bricks. The bricks which edge the walk are termed "vanilla bricks" as they are unmarked. I'm thinking these bricks were used on alleyways and secondary streets as they are not at thick a full street paver, but are thicker than a sidewalk paver. These bricks I discovered dumped on an old railroad right of way. I used to get more bricks at this location. Usually the police would stop by to see what was going on when I'd be loading these up. Back in the early 1990's there was never any question. They figured I was doing a service cleaning up junk. I doubt I could get away with that now!
| | | |
| --- | --- | --- |
| Another Brick Project: | | Saturday, June 23, 2012 |
I need to get the last road trip all recorded, but life has taken over! Once I get caught up with some brick work, I'll get the trip written up.
It never fails. Once the temperature and heat indexes go off the charts, I decide to start another "brick" project. With the front sidewalk finished, I decided to start on bricking up the driveway. I had all the bricks I had previously used in the front walk along with some 500 of the star pavers from the Michigan/Ohio road trip. Since these bricks are all a uniform size, I decided to take the easy way and just lay these over the existing concrete pad.
I'm always so in awe of people who can plan things out on paper. I have to do it as I go. I did a dry run laying out the bricks to get an idea how things would pan out. The bricks along the outside edge of the driveway were cemented in along with the "flower" pavers across the driveway width.
The bricks were laid out in a dry run.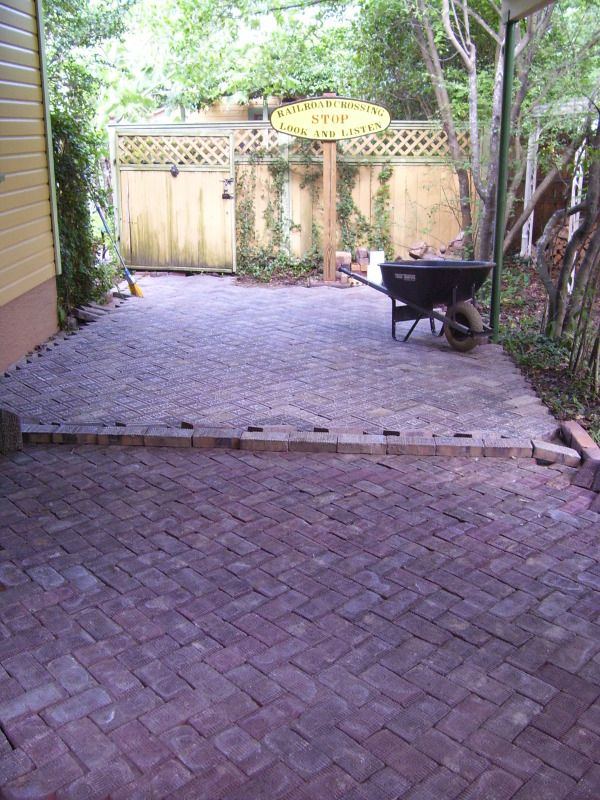 The bricks were then powerwashed and laid in a "herringbone" pattern. That was my job yesterday!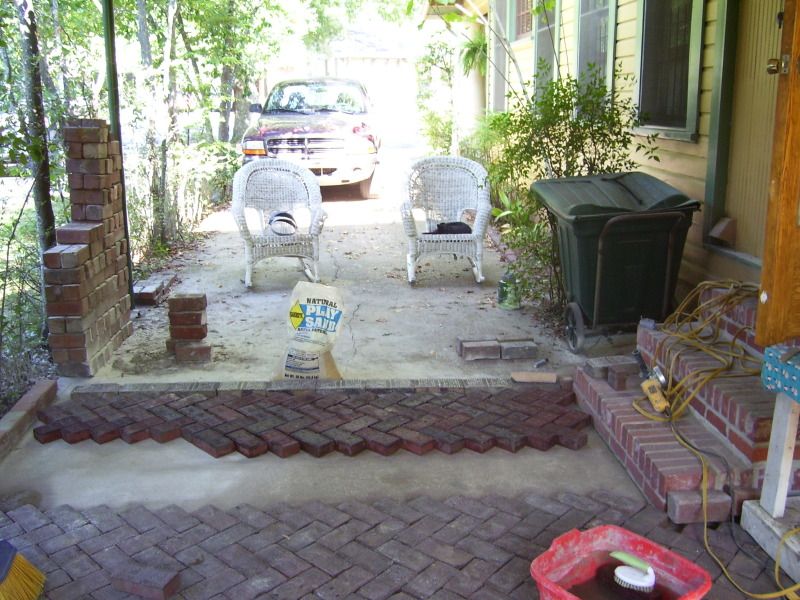 Today I will get to work on the star pavers getting them arranged, cleaned and laid. It looks like I'll be short enough bricks to finish up this section of the driveway. I will have to dig up some of the bricks I laid last fall in the back yard to finish up this project and just replace them with street pavers!
| | | |
| --- | --- | --- |
| Feeding on a Frenzy | | Tuesday, July 03, 2012 |
I'm going to start this day at the beginning. Daggy licked my face waking me up right around 2:00 a.m. Dozed back to sleep a bit but was up for good at 3:30. It was so good to sleep in a cool house. The night had cooled off a bit so I turned off the air and opened the side door the driveway after putting on the morning coffee.
Stumpy hearing me in the kitchen came tearing in for some food. As per our morning routine he got his pill in a bit of wet food and then a full bowl after eating that little portion.
Daggy and I retired out to the driveway. I sat on the steps while Daggy went to investigate a cicada buzzing under Michele's car next door. Stumpy joined her and they proceeded to do their "cat patrols." It is hard for me to imagine it has been 14 years now those two cats have been exploring together.
Just the simple act of sitting on those back brick steps watching the cats brought me such a feeling of contentment and well being. How I savor such moments.
Before I knew it I had to run to the boathouse for practice. The moon was hanging so huge and low you would think you could just reach up and touch it. I was kicking myself for not having my camera when I saw the view from the dock. Then I remembered my Tracfone has a camera. I did my best to take a picture. I have to figure out a way to download from my phone to the computer.
We had a troubling practice. We were constantly "down on port" which made a miserable row for me rowing port in the bow seat. My shoulder is still sore ….
As I was watering in the front yard the phone rang. It was Joe. Oh my God.. we dished for nearly two hours! How I miss not having him more in my everyday life.
He was the one who coined the journal entry for today as I was explaining to him my latest E-Bay brick adventure! This life of mine … I would not trade places with anyone for a million dollars… I'm having so much fun!!
There was an E-bay listing for 900+ Nelsonville circle bricks located up in Indiana, some 635 miles away according to my Google maps. This listing had a freight calculator, something I had never seen before. According to the listing calculator, Dayton Freight Lines would move this load door to door for $1,300. This seemed too good to be true, so I checked with Dayton to see if this was on the level. Long story short they do not service Alabama and could not do the move.
I contacted the seller and explained how Dayton could not move this shipment, and they may have a problem down the line. There was no way I could do a round trip or even one way U-Haul move for under $2,000. A round trip truck at $29.95 a day plus 89¢ a mile adds up. The truck for three days would be $89.85 and figuring the roundtrip mileage at 1,400 miles: $1,246.00. Figuring 10 miles to a gallon: 140 gallons of gas at an average of $3.00 a gallon $420.00. Just all that adds up to $1,755.85 and there are not the overnights, food, tax, insurance, etc accounted for….
Any savings doing a one way rental would be lost in getting to Indiana via bus or plane.
The dealer got back to me with her best price on the bricks along with a rock solid quote from another shipper at $1,000. delivered to the street in front of my house. The bricks were a little bit more than I initially wanted to spend, but the cheaper shipping more than makes up the difference. This shipment will be delivered after I return on the 16th.
This afternoon I will mortar more perimeter bricks around the edge of the driveway for the next "brick driveway expansion!"