I pulled up my Word programme, formatted the blank page for my journal entry, and saved it into the folder for my journal entries. I just file these by the date. It hit me like a ton of bricks this morning that I was typing out 2011 as the year. It seems like it was yesterday the world was supposed to end because of "Y2K". Surely, it could NOT be over 11 years ago people were stockpiling food and water in anticipation of the breakdown of the food chain.
I know it sounds like a broken record, but I'm discovering first hand how fast time passes as you get older. It seems like yesterday I was having the conversation with Ron about what it would be like for me if I moved south. Ron was from Arkansas and he taught me well on the "ins and out's" of southern etiquette.
It was early afternoon on Sunday May 11, 1985 Ron drove to my house from Rochester, NY. We had planned a trip to Niagara Falls, Ontario. I was mowing my front lawn when he pulled into the driveway. I will never forget Ron telling me in no uncertain terms, "Jimmy, what do you think you are doing? Put that lawnmower away. NICE PEOPLE don't mow their lawns on Sunday!" That was my first indoctrination into southern living. Ron passed away back in September of 1992. He was never able to witness my transition into southern life. To this day I feel a twinge of guilt whenever I do yard work on a Sunday!
1985; Ron, Niagara Falls, Ontario:
The book "A Southern Belle Primer, or Why Princess Margaret Will Never be a Kappa Kappa Gamma" by Maryln Schwartz gave me a tremendous insight to the culture of the South. In this book she describes the "Royalty of the South". I had the evidence of that "royalty" at the Mystic Krewe of the Druids "Ball Masque XVIII" last night.
This annual event is put on every year to raise money for West Alabama Aids Outreach. Musical tableaus are preformed, beads and Jello shots are thrown into the audience, the reigning king and queen step down, and the new king and queen take over. It is pomp and circumstance and bawdy fun all rolled together. Everyone has a good time while raising money for a worthy cause.
The new king and queen:
While it is not mandatory, tuxedos and formal dress are informal dress codes. I'm lucky in I was able to score a great tuxedo jacket from the Goodwill some ten years back. I used to accessorize it with my black leather riding pants and work boots. Now I wear my black Utilikilt. I have not given up wearing work boots though!
I can still fit into the pleated tuxedo shirt I bought at Chess II in early 1980's. It has some small holes; I can't bring myself to get rid of it! You can't go wrong when sticking to the basics, so last night I wore a plain white shirt; but the bow tie was a real one. It is an art to tie those damn things. Doing it left handed makes it more complicated!
The bitter cold we experienced did a number on my Camellias'. I really had to search out the "Pink Perfection" bush in my back yard to get two nearly perfect blooms for Em and I. Those blossoms brought us lots of compliments.
If you want to catch the beads, you need to be down in the front. After years of attending this function, I have more plastic beads than I will ever use up in this lifetime. It must have been fate as I got hit in the head a number of times by the flying beads!
Pre Ball Party: Cornelius, Me and Emmet:
Home from the madness!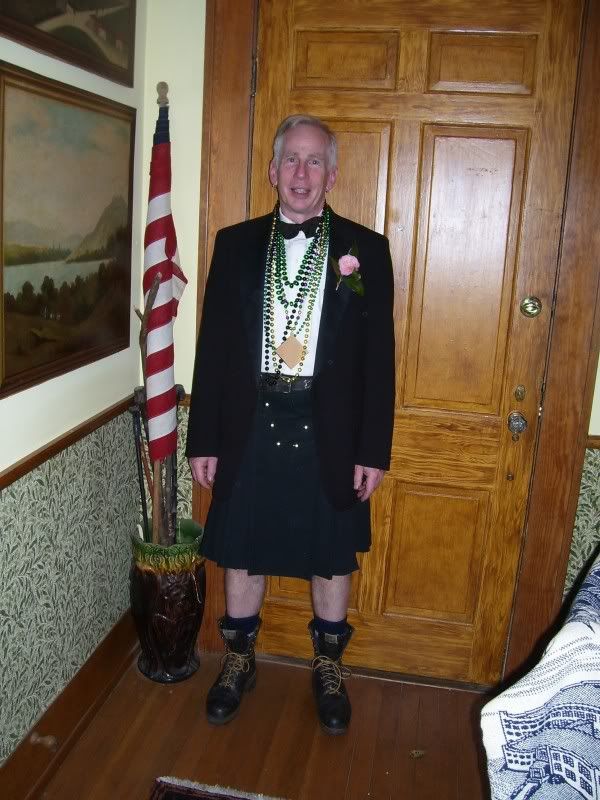 There were after hours parties going on at the clubs. Em and I were both too beat. It was a forgone conclusion we would leave at the end of the programme. I implored Em to crash at my place, have a good breakfast and drive back to Birmingham in the morning. No, he was adamant in driving home. I hate that drive so, especially at night. I like to extend the offer.
This boy is not used to the "late night life" and slept in till nearly 6:00 a.m. I felt like I wasted half the day!!!
I will be feeling the guilt of doing yard work on a Sunday today. I need to get the yard in shape for the newest acquisition from E-bay…. A cast iron Railroad Crossing sign! It is to be delivered Tuesday. Now I can gripe to the city, "It's bad enough I have manholes and fire hydrants installed in my back yard, now you're putting a railroad through here!"
The new sign: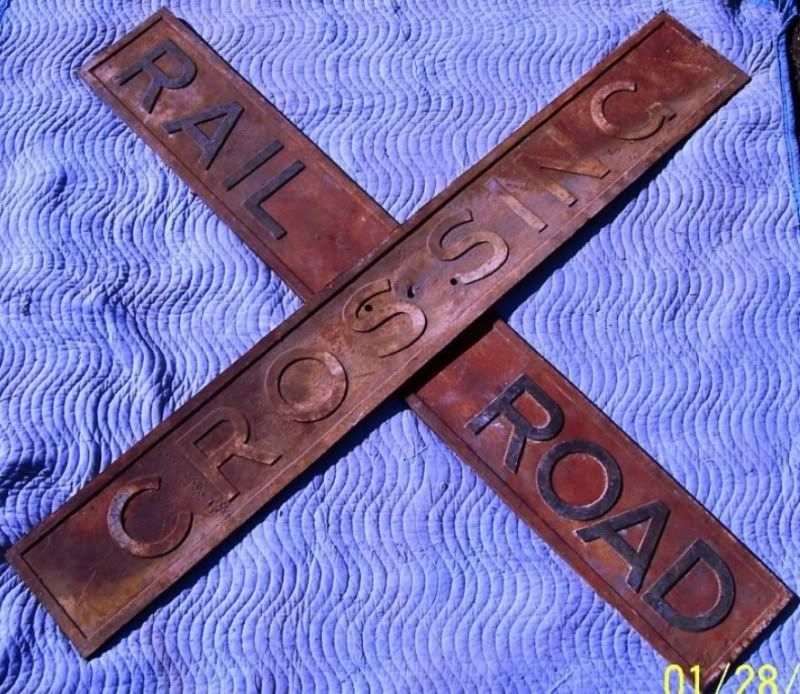 When Ron and I did a road trip to his home in Arkansas back in 1989 we did a tour of the battlefield in Corinth, Mississippi. I fell in love with that town. We visited the museum there and I was able to get the ratty Edison phonograph they had on display working. You could just tell the docent at the museum was one of the "dowagers" of the town. She was so happy I was able to get that machine functioning.
We were headed to Memphis after that. I questioned Ron on how if I moved south if I would ever be able to fit in being from the north. Ron replied, "Jimmy, if you moved here people would just say of you; oh, he's that nice Yankee who moved here from New York."
Ron was so wise: I've had that line said to me a number of times in the time I've lived here. However, I'm thinking I may be pushing the envelope a bit. Now, I'm afraid that phrase will be, "Oh, he is that crazy Yankee who moved here, He's a mess!"
I take being called "a mess" a very high form of praise!