My dad was not a car person. Truth be told, he hated to drive and he never did any maintenance work on his vehicles. Dad's "Cousin Georgie" had a garage; he took care of dad's vehicles for many years. There was a falling out, and dad found a garage that treated him very square. They thought so much of my father they sent flowers to his funeral. With that as my history I had little chance of assimilating the skills required to work on cars from my home environment.
I grew up riding a bicycle and depended upon my 10 speed Raleigh to be my main transportation till I was 23. That was my age when I finally had to break down buy a vehicle in December of 1975. That car was a 1975 Duster… fondly called the "Crop Duster". I used to joke at work it ran on DDT! That old car was so basic. The only extras it came with was an overdrive on the manual transmission and hubcaps. There was not even carpet on the floor, it was a rubber mat!
Slowly I learned the ins and outs of doing some of the basics of maintaining a car like changing the oil and basic stuff. There really is not much major a backyard mechanic can accomplish anymore what with all the electronics and computer controls involved with vehicles today.
It boils down to basic economics. I noticed at the boathouse Monday night the fabric on my headliner was hanging and peeling off at the windshield. A closer inspection showed the entire fabric lose. Right now the last thing I can do is take my truck into a body shop and have the headliner replaced/recovered. I have the time, what do I have to lose? I'll fix it myself!
Today I recovered the headliner of my old truck. The original gray fabric was hanging and peeling from the disintegrating foam. This is the longest I've ever been able to keep a vehicle. I guess this kind of thing just goes with the territory.
Using information gleaned from the internet, I was able to visit enough chat boards and sites to ascertain what to expect in taking the headliner down and the best type of adhesive to use. I'm constantly in awe at the wealth of information available by simply using a Google search.
Back in the B.C (before computers) I would have gone to the library and searched up possible reference books using the card catalogue. Time would be spent in the stacks trying to locate those books and then more time spent reading through said books to locate information. Now I just type a query into the search engine and more factoids than I can digest is at my fingertips in seconds.
I was able to glean enough knowledge to boldly tear into this headliner project. It was a pretty straightforward
The results speak for itself. The total cost was some $20.00 for the extra strength spray adhesive. The material I already had on hand.
I think I can guarantee my truck is the only one in town with this headliner design.
Removing the fabric from the headliner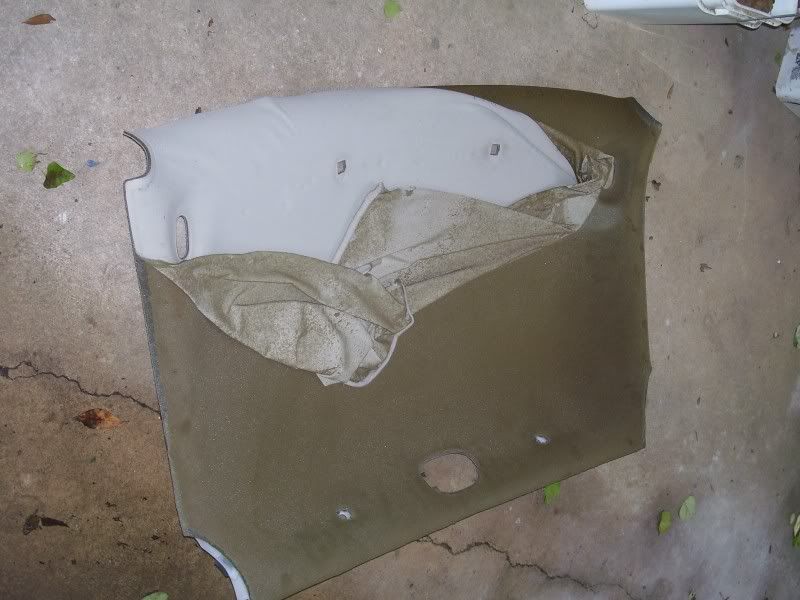 Removing the old foam from the headliner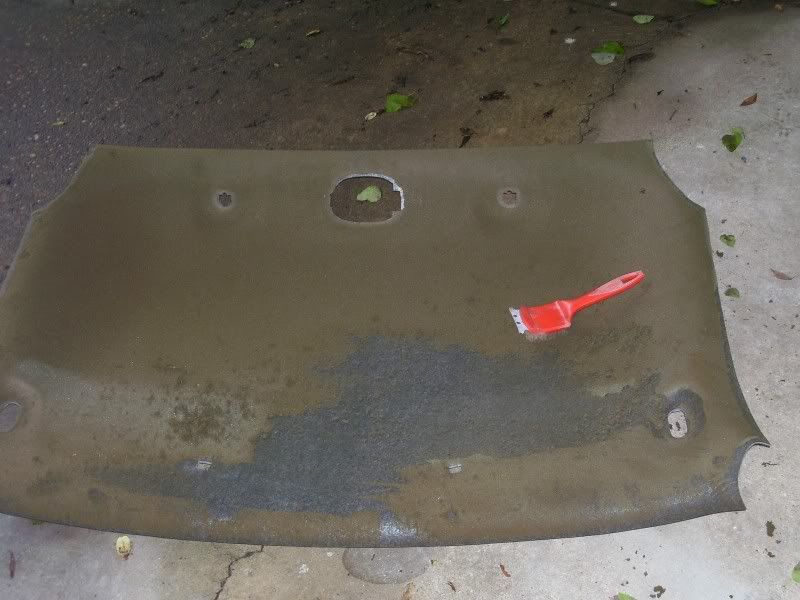 The recovered headliner installed