As much as I love my road trips, I relish my mundane life here in Tuscaloosa. The weather has been unseasonably warm allowing me to have the doors and windows open. Daggy and Stumpy soaked up the sun yesterday as I typed out my journal entry.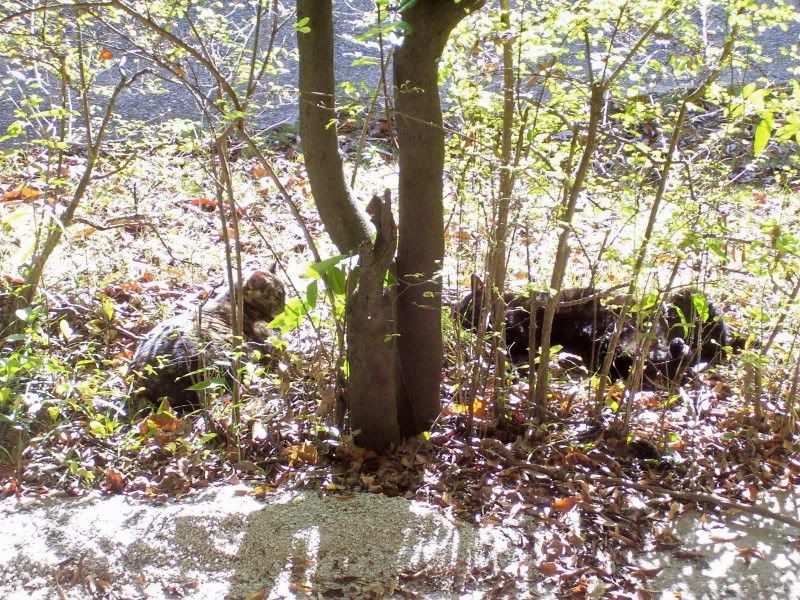 A load of laundry was done up and hung out to dry. I'm hosting the Rowing Club Christmas party here in conjunction with lighting the luminaries here in the historic district Sunday night. Cleaning and decorating was started. Going into the yard with my pruner gave me more than enough greens. My pink perfection Camelieas are just coming into bloom, so I'll be able to have bowls of those beautiful blossoms around the house. This year I'm decorating on a budget of ZERO dollars!!!
Decorations all up: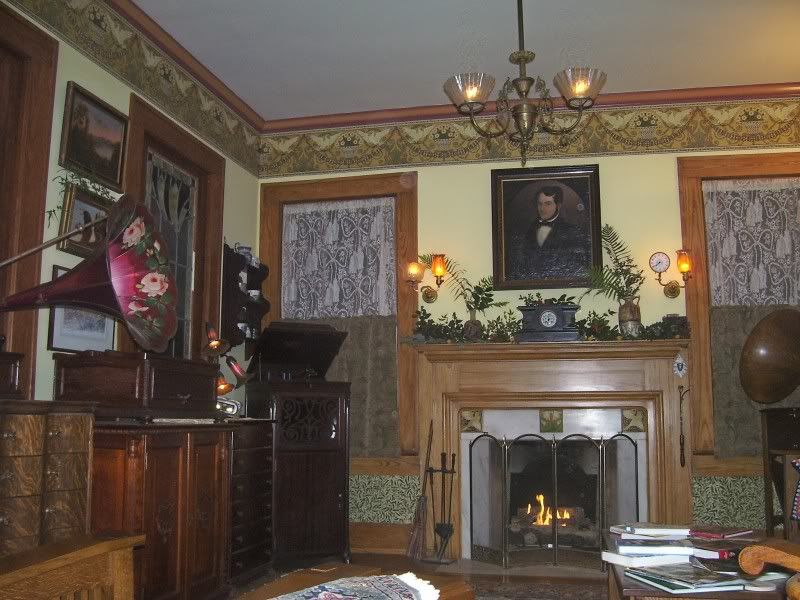 Back to New York City: Thursday the 8th
It was about 4:15 when I got in line for standing room tickets for "The Book of Mormon" behind a college girl and her dad. I was about 20th in line. We guarded our spots against line breakers. Actually the entire line did that. A man about my age and two young girls soon joined the line.
This guy was nice enough, but I could tell he was not used to being around young people. He was so hurt when these young women could not name the four Beatles. It would be like someone who grew up in the 1940's being upset because I could not name the Andrew's Sisters in 1970. (I do know their names today: Patti, Maxine, Laverne!)
I told these girls how when I'm questioned about new music I just mention the groups of Pearl Jam and Nine Inch Nails. The young women both had bewildered looks! I laughed and said I'm going to have to update my "modern recording groups!"
At 5:00 there was the lottery for the available 32 seats. The crowd really grew for that offering. The college girl and her dad got box seats for $35.00! There were a number of people ahead of me in line who scored tickets that way. I moved up behind a group who waited in line Wednesday in the rain. They were right at the cut off! My little group lucked out and we all got standing room spots. I was flying when I was handed my ticket. Then the shivers kicked in. It was getting cold and standing for those two hours outside was taking its toll.
The ticket Lottery:
There was a place just down the street where I could get coffee. The clerk said, "Oh my God, you're shivering!" as I handed her the money for my hot coffee. It was the combination of the cold and the adrenaline is all I could figure. Once I settled down I headed out to kill a bit of time before the show.
My Score!: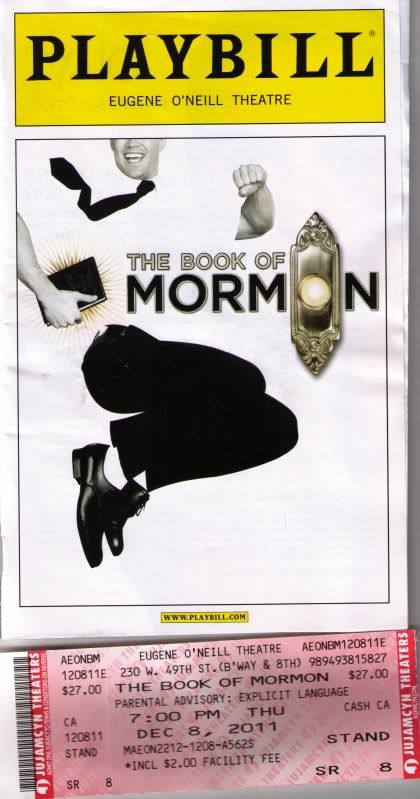 I toured Times Square. This is the first I have explored the area since it has been "Disneyfied". I miss the grittiness it had back in the 1970's and 1980's. It is too much like being in Orlando now. I talked to one of the guides at the TKT'S booth. I did not see "Standing on Ceremony" listed on the board. He told me to check back around two in the afternoon Friday. He could not believe I had scored a ticket to BOM!!! He assured me I would love the show.
Once in the theatre we were asked to stand out of the way against the wall till the show started. Our standing room was behind the orchestra seats with our spots marked on a rail we could hold on to. My spot was #8 which was on the right side not far from the center. Our usher asked us to be respectful of those seated ahead of us and to watch the railing as it was kind of wobbly!
The Book of Mormon started and it was magic from start to finish. The view for me was pretty much unobstructed. I was so immersed in the show it did not register I was even standing!
I was walking on air as I left the theatre and headed to the "Y" after the performance. I was worn out at this point in time. The streets were filled with people and the holiday lights and decorations were lit with a vengeance. What a magic time to be in the city!
Friday December the 9th:
I slept through the entire night. The room though tiny was very quiet. At a little after 6:00 a.m. I was in the huge work out room on the Concept 2 rowing machine to get my meters in for the Winter Challenge.
After my shower and getting cleaned up I fed $2.00 into the "pay computer" on my floor for 10 minutes of online time. Recorded my meters online, did some fast e-mails and posted a VERY hurried journal note before the timer shut down.
I was starving at this point in time. I found a nice sit down place where I got an omlette, potatoes, toast and coffee for a reasonable price. From here I headed to the Elizabeth Taylor Exhibit. When I got my ticket on-line I put the wrong date in. I was told to return on Friday and it would be taken care of. At this time of the morning there was nobody around but the doorman. I showed him my paperwork and explained how I had messed up. He was so nice. He told me to return around 12:00 as that is when the exhibit opened. There was nobody around now who could do anything.
I was right in the area where "Good Morning America" is broadcast. People told me to show up and see if I could get on TV wearing my Utilikilt! Sorry.. I was not going to waste my time on that TV show. I had more important things to do!
I walked to W 35th to the Ali Forney Center. This group helps homeless gay and lesbian street kids. They need all the help they can get. Since I was in town I wanted to drop off a donation.
From here I headed to Macy's. The store was all decked out for the holidays. I had a sadistic reason for going here. I wanted to see if "Santaland" was as horrible as David Sederis described it in his "Santaland Diaries". I started at the 9th floor and worked down. "Santaland" was on the 8th floor. Unfortunately, I missed seeing a bunch of screaming kids lined up waiting to enter through a steam train. It was still a bit early for that. But, I did see the "elves" waving their hands saying, "Merry Christmas" over and over again. Those poor people!
Working my way through the store a clerk who had been standing in a group approached me …"You were here yesterday, I remember you!" I laughed, "No, it was not me!!" "Oh, there was a guy wearing a kilt just like you here yesterday!" she explained. I had them all laughing telling them Utilikilt stories!
Now it was time to get over to Rockefeller Center to get my ticket straightened out. There was a huge line to see the exhibit. I had to go to a separate line where my original ticket was initialed and OKed for admittance. I brought all my communication and paperwork in case of problems. There was nothing to it!
It was announced on Reuters the Elizabeth Taylors gems alone brought in $116 million. Here is a copy and paste from that article:
Christie's officials also were ecstatic with the results, which followed a monumental 10-day exhibition of Taylor's jewelry, couture, art and memorabilia that sold 25,000 tickets at $30 each.
Rahul Kadakia, head of jewelry for Christie's Americas, said the auctioneers knew the sale was going to do very well, given Taylor's lavish tastes and worldwide fame as one of the last great Hollywood stars.
"This truly is one of the greatest jewelry collections in the world," he told Reuters. "But in my wildest dreams, I did not think we would outsell the estimate by five times."
Marc Porter, Christie's Americas president and chairman, said the auction was "one of the most extraordinary sales Christie's has ever had." He called it "a testament to the love of Elizabeth Taylor worldwide" as well as to her collecting ability.
It took me an hour and a half to view the clothes and gems on display. One man by me was saying how he worked backstage at an event when Elizabeth Taylor and the designer Halston arrived. "All the energy on that stage was focused on those two" he explained. It is terrible but whenever I hear of "Halston the designer" all I can think of is the scene from the movie "Polyester" when Cuddles pulls a dress off the rack in a high end store, "Oh look Francine, Halston!!! I'm going to go try it on!!!" (I tried to see if a "Youtubes" of this was on line. No luck!)
After seeing all these jewels it is hard to imagine diamonds are rare. My head was about to explode from overload by the time I was finished..
I saw the doorman I had spoken to earlier as I was leaving. He told me he was glad I got my ticket mess straightened out and got to see the exhibit.
From here I went to the TKTS booth to see about getting tickets for "Standing on Ceremony" tonight. As I was looking at the board, this little lady tapped me on the shoulder. When I turned she said, "Sorry Sorry." Her friend had a camera. I realized she wanted a picture of us together. I put my arm around her and gave a big smile as her friend took our picture. It dawned on me she was trying to say she was sorry for disturbing me…. Who knows what part of the world that picture of this neat lady and the man wearing a Utilikilt will be shown in.
Standing on Ceremony was not listed on the available list. I made a trip to the theatre at Minetta Lane to get a ticket…….
To be continued………