The organizers of the Spring Brick Swap in Terre Haute, Indiana put out a request for members to send in pictures of their favourite bricks or stories related to them. I got to thinking how the old bricks I salvaged back in 1983 have had such an impact upon my life. I began to pull pictures of these patterned bricks from my photo albums and realized the story was too complex too narrow down to just a couple pictures.
Let me begin by saying I salvaged out these circle pattern bricks in the summer of 1983. It was not till the summer of 1986 they began to see use around my house as edger bricks and even as a walkway.
It was the spring and summer of 1987 Ron and I got seriously to work fixing up my back yard. Ron had the green thumb for growing just about anything.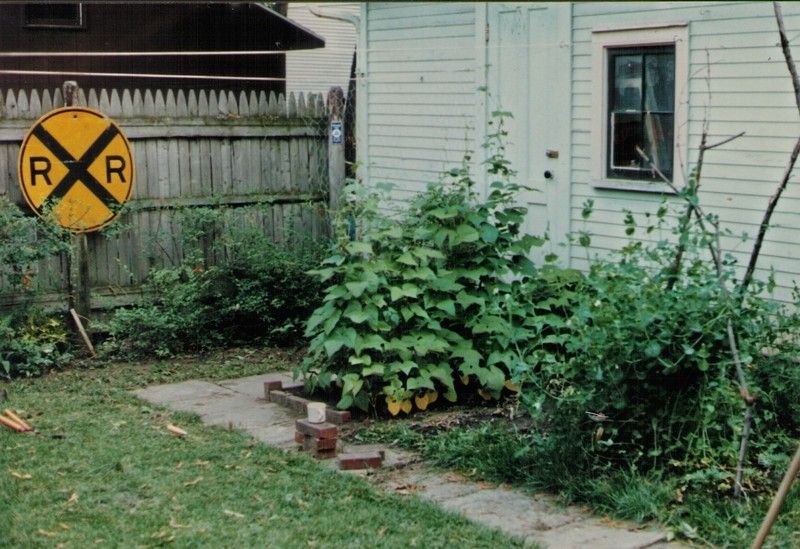 Closer shot of the bricks being used as edging: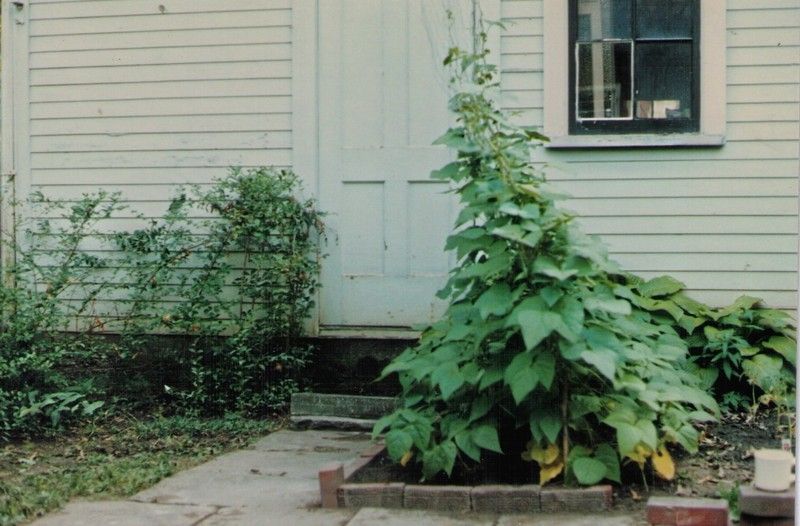 The cement pad was taken out and replaced with garden stuff and bricks. The walkway is the patterned train station brick, while the large area is hill brick salvaged from Clinton Street Hill when it was redone in 1989.
It was in 1995 I finally built a deck to utilize the door I installed in the dining room to the backyard. To tie everything together, all the patterned bricks were brought together into a patio.
Early installation: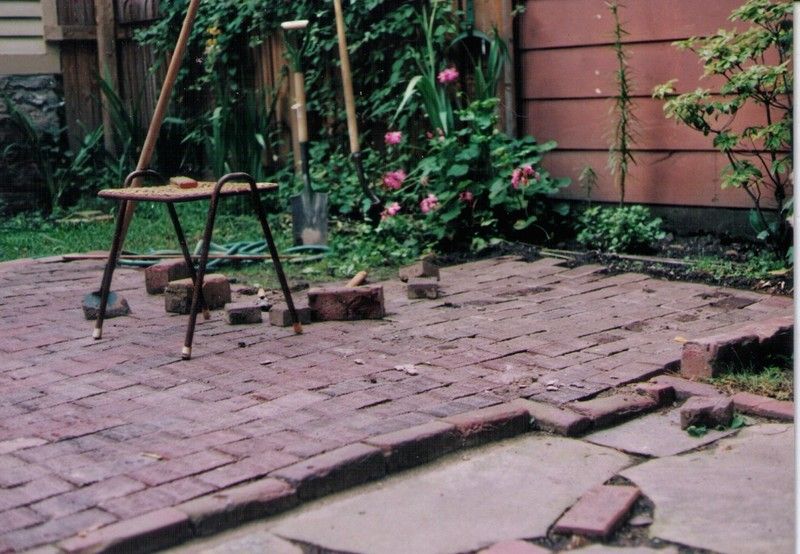 Roughed in deck: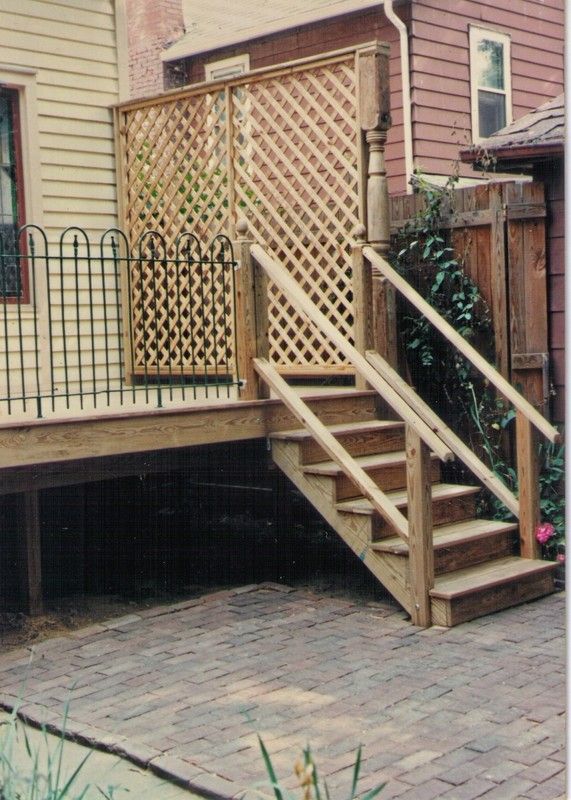 Things were happening in my life. My neighborhood was getting seedier. I was no longer content in my old house. My mother died in December 1994. She was the main tie I had holding me to Lockport. The fall of 1995 I began to seriously contemplate relocating to Tuscaloosa, AL where my factory had a small plant principally to supply the Saturn line of GM cars with air cooling and heating systems.
It was January 1996 I visited Tuscaloosa, AL for the first time to check things out. I had a very favorable impression. I made up my mind to make the move.
There was no way I was leaving my treasured bricks behind. The first load got moved south in March 1996 along with a truckload of other stuff. I rented a storage unit and slowly filled it from my numerous trips south. That poor 1995 Dakota had more miles on it nearly dragging the bumper on the interstate from being overloaded with those bricks!
Digging up the patio. Spring 1996: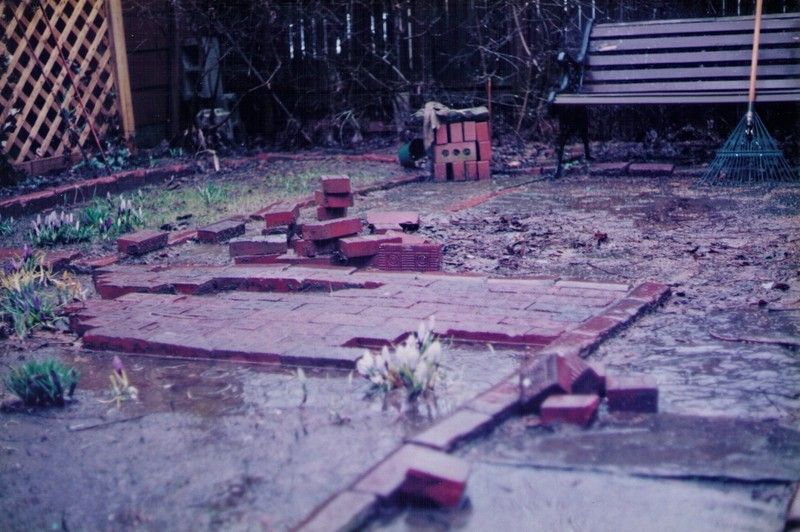 One of my favourite cat pictures: Chloe is the tabby, Fuzzy is the yellow:
I had crocus growing up through my lawn in back. By the time I was moving, they had spread to where they had taken over the tiny back yard.
The bricks are gone. The finished deck. Me, Billy and Chloe. Early Fall 1996:
I closed on my Tuscaloosa house Aug 1996. The bricks I had stored in a storage facility were moved to my new abode. Chloe on the brick pile. The Train station bricks are in the back, the Clinton Street hill pavers in the front.
It was not till the spring of 1999 I was able to break out the cement sidewalk and install these patterned brick into a front walkway: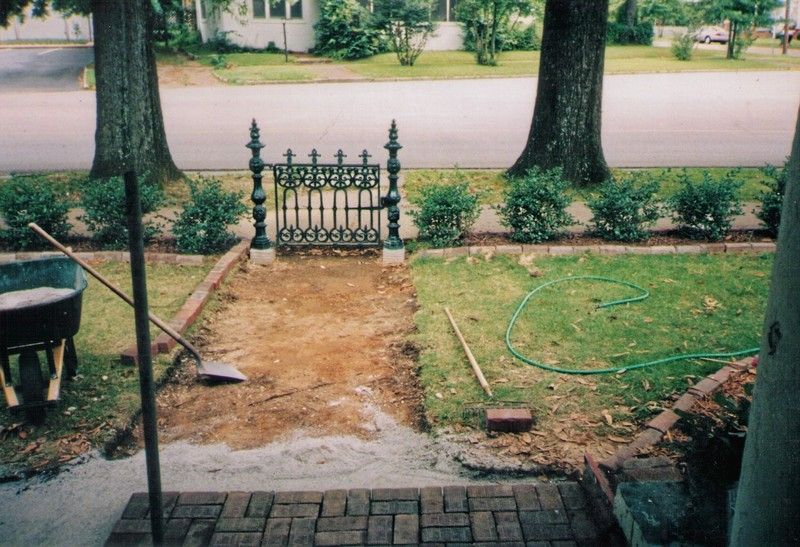 Now let us fast forward to spring of 2012. I purchased a hoard of Nelsonville Star bricks located just outside of Dayton, Ohio through E-bay.
The train station brick was taken up and the nicer salt glaze bricks took their place:
New and improved walkway with flower brick as the edge, star, and a few circle bricks and snowflake thrown in for good measure for the fill: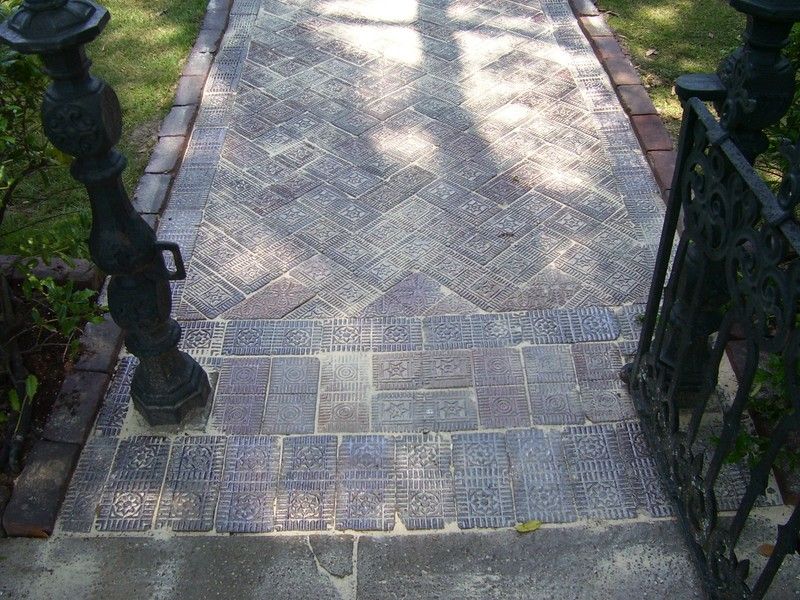 I was going to incorporate the old sidewalk bricks into the driveway, but they were not a salt glaze and the different dimensions in the brick did look right: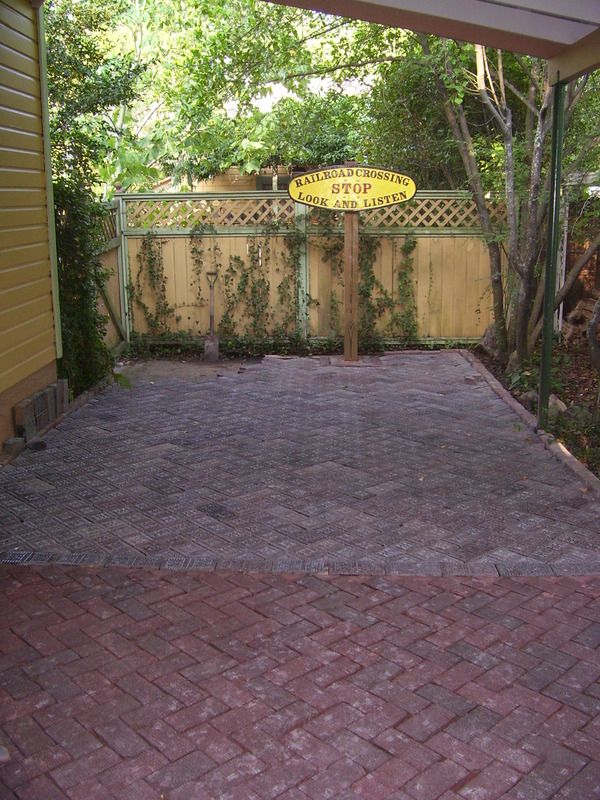 An early project back in 2000 was to install a cement walkway to my workshop. tThis walk was bordered by brick and divided into sections. That cement was torn up and replaced with brick in the fall of 2011. The one outside support "wall" was replaced with a cement footer topped with a plain solid brick salvaged from the old walkway.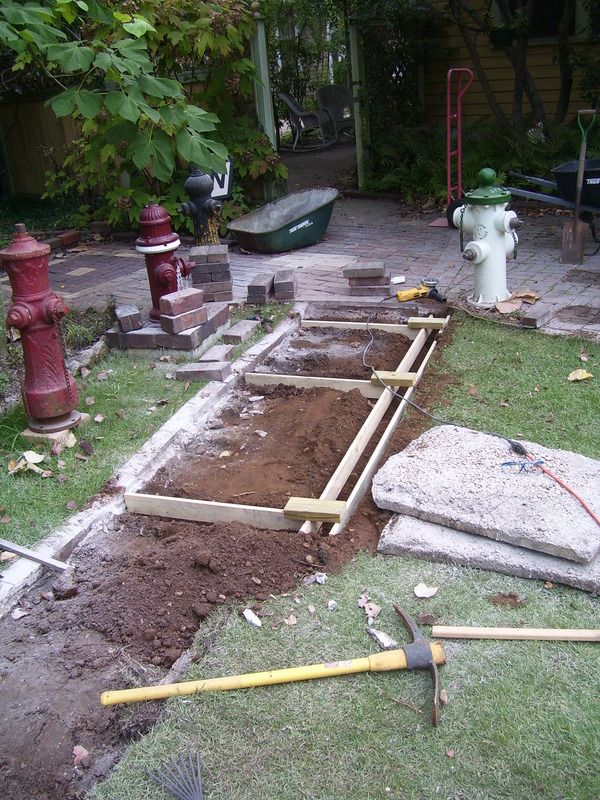 This was filled in with Star Brick I acquired in Virginia: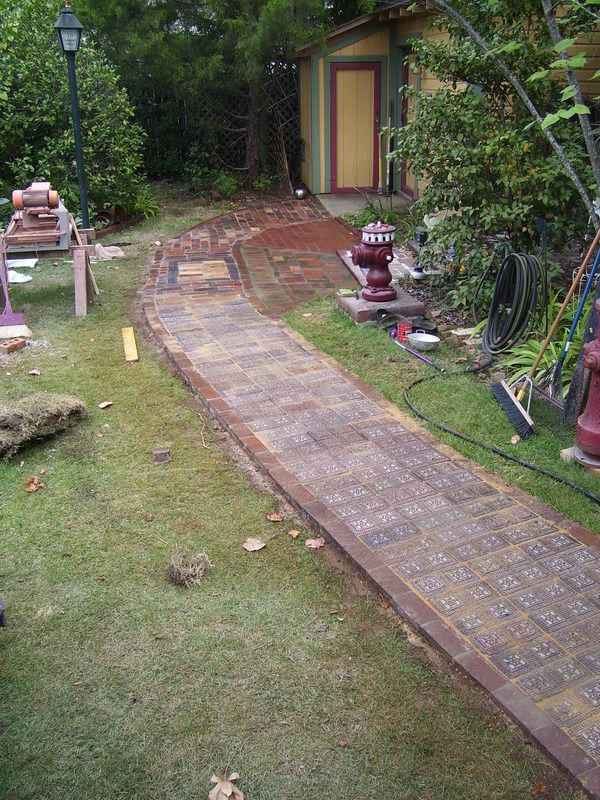 In 2012 these Star bricks were taken up to be used in the driveway. The Train station bricks took their place in a herringbone pattern: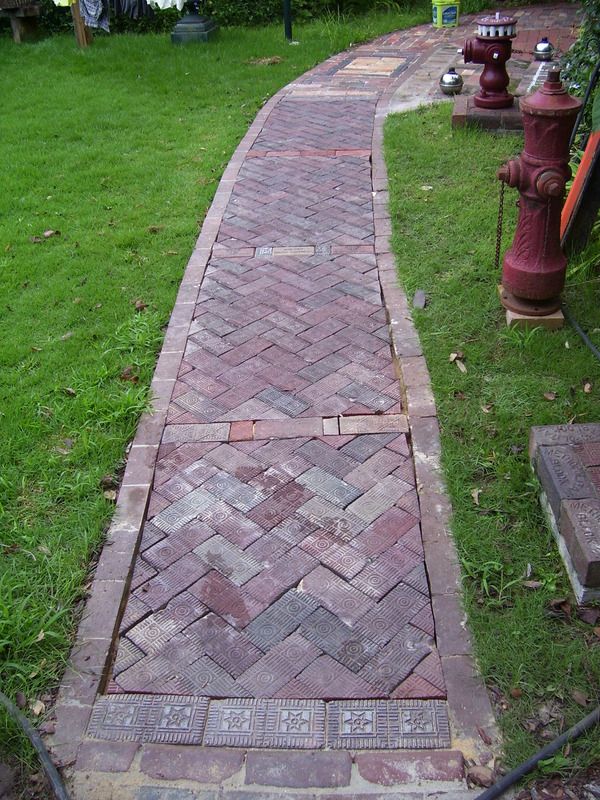 I acquired a another hoard of patterned brick in Tennessee which allowed an expansion and improvement project in the summer of 2013 on that walkway. It was such an aggravation to cut and trim the small odd patches of grass. Brick is so much better!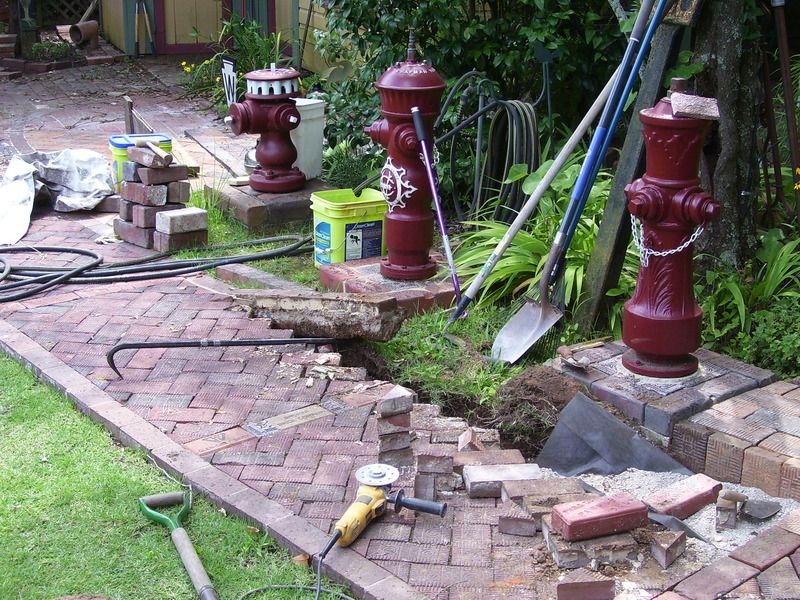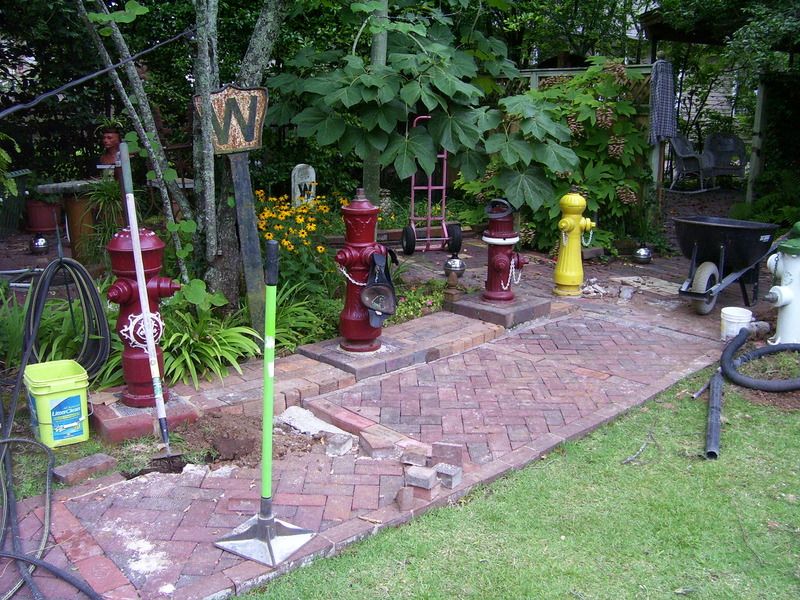 That is the history of the bricks that changed my life for the last 33 years. This just proves Ron to be true. He always explained me to people as, "That Jimmy. He is like a squirrel in a cage just going round, and round, and round!"