It has been over a week since my last journal entry. I was on the road to Florida for the Orlando Phonograph Show. I'm going to start this entry with Monday, and mash it all up. Hopefully it will make sense!
Billy and I were up early to drive to Webster, Florida to the flea market. The busiest day for this market is Martin Luther King Day. This year it ended up being a wash-out due to rain. Today (1/24) should be better. It was bitter cold as we left Billy's house in my truck. I did not wear my Utilikilt, and had layer upon layer of other clothes on. Central Florida is so much colder than the coasts. There was frost on the grass as we explored the fields as the dealers were setting up in the early morning.
Antique wise there was little to find that I was interested in. The closest things were a set of porch lights that I had no earthly use for. The real big draw is the fresh produce. I spent $5.00 on a ½ flat of fresh strawberries and another $5.00 for three bags of ruby red grapefruit!
Here is where I have to jump around a bit. What the Hell was I going to do with 6 pints of strawberries? Time to reflect a bit on the past: Back when I lived in Lancaster, PA in the early 1970's the biggest treat imaginable was to go to Hess's department store and get a huge piece of strawberry pie. I remember finding a recipe for it on the internets in the past. I decided to make up that strawberry pie!
First problem was making a pie crust. I found a great basic pie crust recipe on line. However, I did not have any shortening. Cooking for one, that kind of stuff just goes bad. Here is where I really appreciate finding recipes like this on line. The comment section after this basic recipe was filled with pointers and suggestions. One commenter said she substituted frozen butter for the shorting, using a grater to break it up into the flour. She also added a bit of sugar and vanilla.
What a perfect idea, and it was exactly what I did! I have never made a pie crust from scratch before. I used mom's pastry tool to chop the flour, salt (cut way back because my butter was salted) and sugar together. Then a dinner fork was used to blend it all with the ice water. It was formed into a ball and wrapped in plastic to chill overnight.
Early Thursday morning the oven was heated to 475° as I rolled out the dough. I really got into it! When it was to size, I rolled the crust around the rolling pin and transferred it to the pie tin. It baked for 7 minutes to a nice brown.
Later in the morning I hulled enough strawberries to line the crust.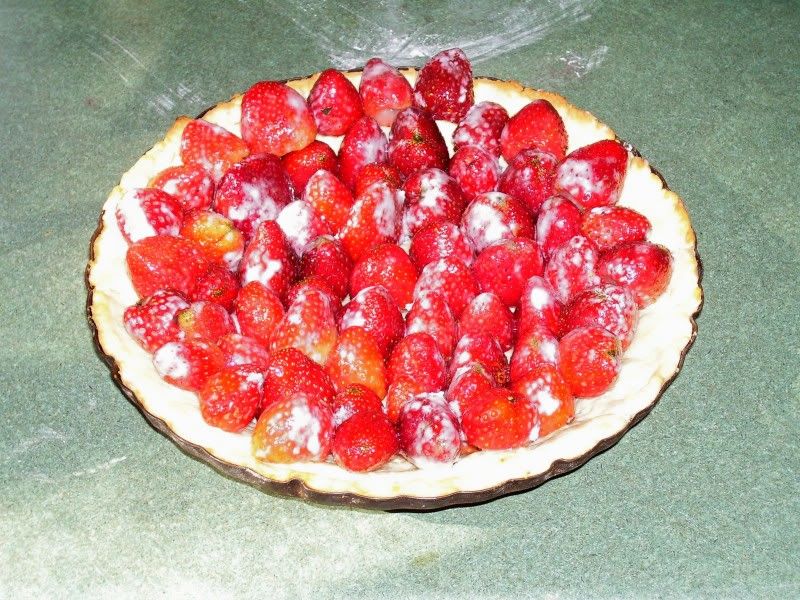 Three cups of whole berries were required to make the glaze. These were first mashed, then put through a ricer, and finally through a wire strainer into a pot. Water and lemon juice was added and the mixture was brought to a boil and corn starch was added so it would all thicken. Once cooled to room temperature. The glaze was poured over the berries in the pie crust.
The whole mess sat overnight.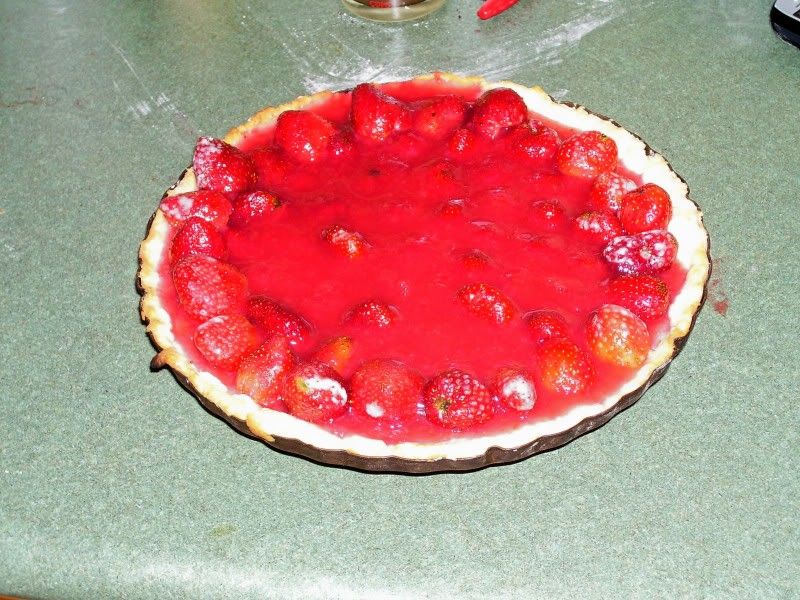 Today, Friday the 28th was my big day at the "Y". I had made up my mind to erg another ½ marathon: 21,097 meters. I warmed up first with some stretches and leg raises for my hamstrings. Got a glass of water for the mid way drink and an extra towel to sit on. At home I had duct-taped sterile gauze pads to the blisters that have developed from the extended erging I've been doing for this challenge.
I programmed my workout for a single distance of 21,097. I had a long playlist on my MP3 player all set and playing. I had to beat my first ranked time of 1.35:01.6. This meant I had to do a racing start. I held my breath as I focused my attention and began with 2 1/2 slides, a 3/4 slide, a "reach" slide and finally a full slide and 10 hard fast strokes.
I was so pissed when I realized five minutes into the row I forgot to position my heart monitor readout on the handle! Oh well… too late for that! For the first 10,000 meters I did power sets every 5,000 for a minute. Then I went to power sets every 2,500 meters starting at 7,500. I could feel my right calf start to cramp up at my 5,000 meter mark. Cut back a little, but at the last 500 meters I went all out. It paid off as I shaved over 2 minutes off the previous time. Today I was 1.32:39.3. Ranking that workout put me at 16 of 35 for my age and weight class.
After a long HOT shower and a rest with the cats, I made up fresh whipped cream and dumped it on a heaping piece of strawberry pie. It tasted just as I remember from nearly 40 years ago.
Tonight I'll cook up my last chuck steak with lots of butter and onions. Then I'll top it all off with another hunk of pie and whipped cream!
Life is good!