I am loathe to say much on rebuilding on-line in a public forum. No matter what you say or do, it will be wrong to someone. The following transcribed bit from the 1978 Nation Lampoon parody Sunday Edition of the Dacron "Republican-Democrat" is the perfect illustration. The Ann Landers parody column was entitled: Dear Dorothy. The problems she solved.
.
Dear Dorothy. At a luncheon at a friend's house I discovered that there was no toilet tissue in the bathroom and as I needed some I had no choice but to use a hand towel. I put the hand towel into my purse fully intending to take it home, wash it and return it the next day. However, a while later my friend asked to see my new handbag. Needless to say she found the towel and accused me of stealing. What should I do now? EMBARRASSED PORTLAND, OREGON
DEAR EMBARRASSED: Anyone who entertains and doesn't have the sense to check her toilet tissue supply isn't considerate enough to have friends. If she's really your friend, I hate to meet your enemies!
Dear Dorothy. I had a few friends over for lunch the other day and as we were visiting I noticed one of the gals was acting very peculiar. I suspected something right away and asked to see her purse. She was very reluctant to give me her purse and with good reason-she stole one of my towels! I'm shocked and don't quite know what to do. ANGRY PORTLAND, OREGON.
DEAR ANGRY: Anyone who steals from her friends is no friend at all. Drop her like a hot brick.
Dear Dorothy. I am very generous about loaning things, but I'm really miffed. I loaned a neighbor my expensive good guest hand towels for a luncheon party. When she returned them the next day, one of them, was stained and smelled of urine. What could be wrong with her? REVOLTED PORTLAND, OREGON.
DEAR REVOLTED. I think your friend needs a hygiene lesson. And you need friends like her the way a cat needs swim fins.
Last week I put out a call for help to acquire the proper tracker bar linkage for my upright Franklin Ampico. I have owned this piano since 1975. The tracker pneumatic and linkages were missing when I bought it. I was able to acquire a tracker pneumatic and fixed up a crude tracking rod over the spoolbox which worked well enough. In the late 1980's in patching up the Ampico to keep it playing, the tracking system was modified to shift the tracker bar.
This upright is an early A system. There is evidence of five bracket supports on the top of the spool box for a tracking rod.
Five years back I was considering "Craigslisting" this piano to free up space. It barely played and anyone reading this knows what the market value is on these instruments anymore. Still, this piano held sentimental value. After 40+ years I still enjoy listening and tinkering with it. I was able to get it to gasp through some rolls and made the decision to have it all professionally restored. It was late October 2015 the piano technician was at my house installing the works and fine tuning it all. It was heaven to have my Ampico operating again.
This past month the tracker bar stiffened up and would no longer move by the tracking pneumatic. That was the impetus to restore the tracking back to a rod system to shift the roll.
A MMD member came to my rescue. I could tell from the parts photos this would not be a "exact" replacement, but it could still be done. The tracking linkages and related parts were delivered to my door Wednesday the 27th.
I have dealt with antiques for over 50 years now. Believe me, I know the iron clad restoration rule to "never alter an antique in a way that can't be reversed". In my situation, I figured this rule did not apply. The chance of getting an exact duplicate of the original tracking rod was pretty much "0".
To make this function, I would have to cut into the sides of the spool box. I do not have a fancy woodworking shop; I try to function with the basic hand and power tools. This will be a low tech installation. Painters tape was applied to the tops of the sides of the spool box and measurements were marked out. Using a fine finishing saw, two cuts were made on each side. A jewelers saw with a fine blade cut across the bottoms to make the channels. Once the rod was adjusted for the right depth, bushing felt was glued into the channels and over the rod.
The top board needed to be modified to accommodate the newly installed rod. A channel would have to be cut into the length of the top board. Again using painters tape, the measurements were laid out and marked. This board was duct taped to a scrap of plywood. A guide was set up for the circular saw. The blade height was adjusted. A run down each side and the middle of the channel was made with a finishing blade. I then "rocked" the blade from the middle cut to each side to knock down the remaining wood. This a far cry from a professional restoration, but this is not something anyone is going to see.
I was so glad Louis also mailed along the spool box parts which matched the linkages. I wanted to incorporate the new tracking rod and linkages from Louis with old brass existing roll parts in The Franklin spoolbox. The system that originally held the piano rolls was too different from this later set up from Louis. The clearances were way off. The original brass components could have been modified with a lot of aggravation. It was easier to take off the existing hardware and replace with the "new" items.
I got this new tracking system all set up and working by late morning. The piano is playing and tracking wonderfully. I'm very happy!
Set up showing old linkage shifting the tracker bar: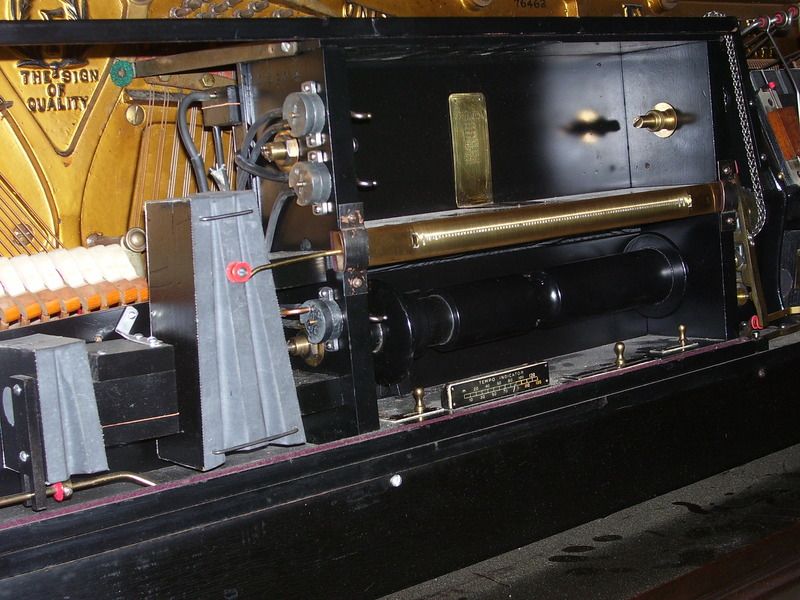 Cutting in the side channels:
Gluing in the bushing felt:
Cutting in the channel: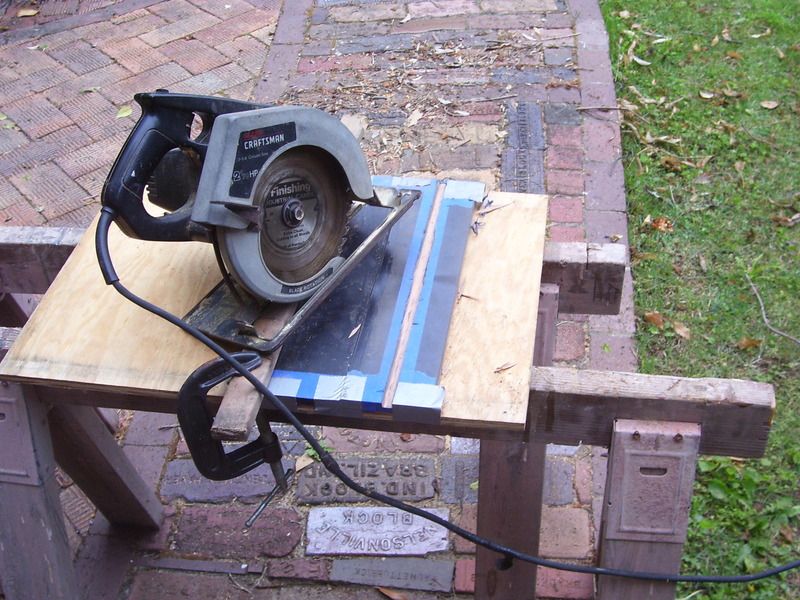 Installation completed and working:
---